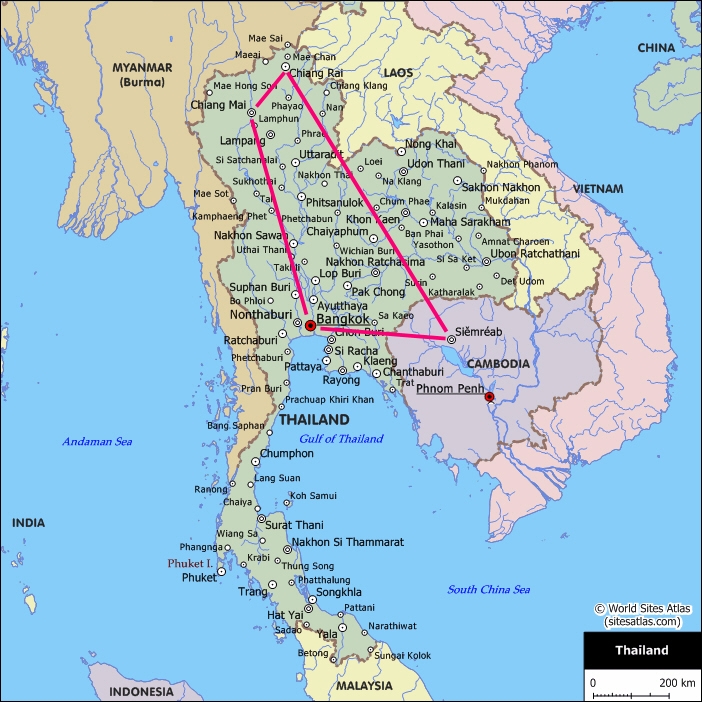 Our route through the area was pretty much as you see marked here at left; we traversed clockwise starting in Bangkok. Clicking the selections on the yellow frame bar at left will bring you to photo albums of our various destinations. Some of the highlights of each item on the list were:
Bangkok
A tour along the Chao Phraya river via "long tailed boat", through the "klongs" (the back alleys of the river).
The Grand Temple (Wat Phra Keo) and Royal Palace
Wat Arun, the Dawn Temple
Wat Po, the giant Reclining Buddha
Riding in tuktuks, sort of like a motorcycle but less safe
The huge Suan Lum Night Bazaar
Royal Barge Procession
Beautiful and haunting flotilla of royal boats down the Chao Phraya.
Ayutthaya
Bang Ki-Po, the summer palace of King Rama IV (of "King and I" fame)
The capital of Thailand for over 400 stars, starting in the mid-13th century, now in ruins
Floating Market
Damoen Saduak, a narrow canal where tchotchkes and produce are hawked by boat
Mae Taeng Elephant Camp
...where we rode an elephant, a bamboo raft, and an oxcart all on the same day. Since logging has been banned in Thailand, the elephants are otherwise unemployed. The day included a rather remarkable demonstration of elephant training, including a pachyderm painting a picture.
Chiang Mai
The major city in northern Thailand. It has a large street market and is known for the elaborate Doi Suthep temple.
Chiang Rai
Hot springs en route from Chiang Rai; hawkers sell eggs boiled in the water!
The spectacular Wat Rong Koon "White Temple", so white you can barely look at it in direct sunlight
The beautiful River House hotel
Contrariwise, the ominous Black Temple, created by the artistic rival to the man who made Wat Rong Koon. This is where Conan the Barbarian would worship if he were a Buddhist.
Golden Triangle
The Giant Buddha where Thailand, Laos, and Burma meet
Our boat ride across the Mekong River to Laos
Hill Tribes
Hmong village near Chiang Mai
Akha, Lisu, and Long-Neck Karen village near Chiang Rai. The Long Necks are called that for a very, very good reason. (Look at the pictures.)
Angkor Wat
Our spectacular 1-day foray into Cambodia. The complex of temples at Angkor -- Angkor Wat, Bayon, and Ta Prohm -- is one of the largest and oldest in the world. Tomb Raider was filmed there; you'll recognize the giant banyan trees slowly engulfing the temple stones.
Flowers
Mostly orchids and jack-in-the-pulpits from the two botanical gardens we visited
VIDEOS
Like it says at left