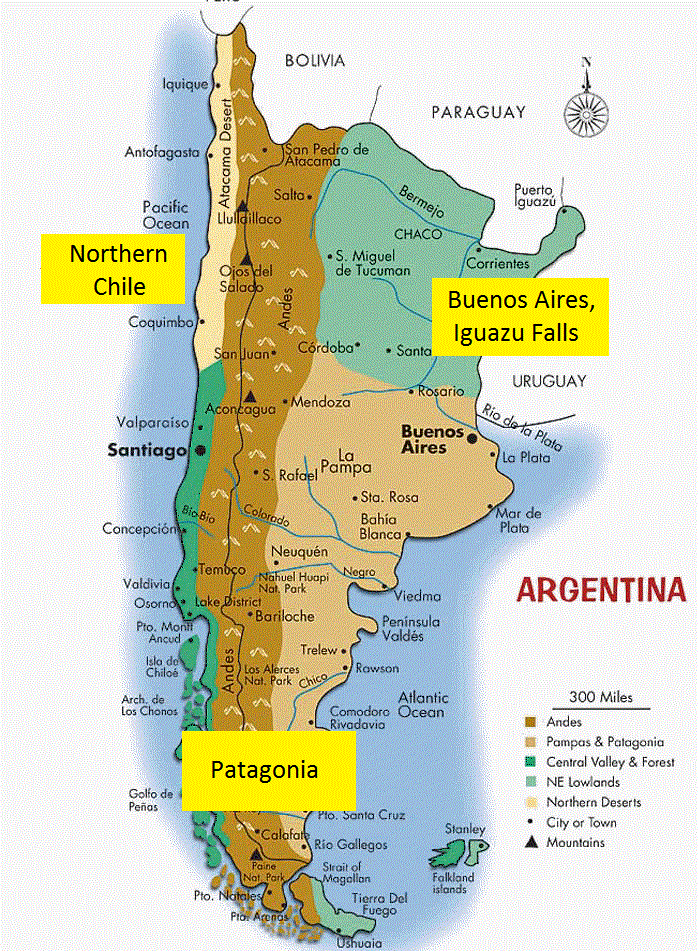 We enjoyed yet another once-in-a-lifetime experience, this time in South America, spending about two weeks in Chile and a week in Argentina (plus half a day in Brazil!) at the locations highlighted in yellow in the map below. To see photos and videos from the various parts of the trip, you can click on either the yellow boxes on the map or use the navigation panel at far left.
When the respective regions' pages show up in this window, be sure to scroll through them: each one has both photo albums and videos.
You can also read Rich's travel blog by clicking here or on the navigation panel. You can always return to this page by clicking on the "main South America 2014 page" link in the navigation panel.
The links in the nav panel reflect the order of the trip, sort of: we started in Santiago, Chile and ended in Iguazu Falls, Argentina. (We actually passed through Buenos Aires a couple of times.) The trip was a small group tour with 7 other people on the first and last legs and 17 others on the main leg through Patagonia. We booked it through Overseas Adventure Travel, whom we can recommend very highly. (We used them for our 2012 Southern Africa expedition as well, which you can learn about by clicking here.)
This was an extraordinary trip encompassing a jaw-dropping range of adventures: motoring in a Zodiac through an ice-choked fjord up to the face of a calving glacier; strolling through a geyser field at 14,000' up in the Andes; standing at Cape Horn; hiking through an alien salt-encrusted desert, and more. It was like a 3-week National Geographic IMAX movie.
Read the journal and look at the pictures and videos!