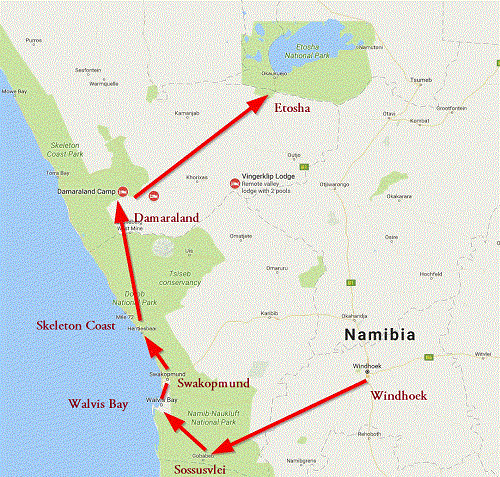 Our fifth trip with Overseas Adventure Travel brought us and 12 other people to southwestern Africa, this time for 2 1/2 weeks in Namibia. It's a beautiful and diverse country in which we visited several regions, shown in brown on the map at left. You can click either the seven dark brown place names on the map or the names in the navigation panel at far left to see the photo albums from that region.
Here's where we went. (You can also click on the names of the regions in the list below to get to the photo albums.)
You can read about our adventures in snarky detail in Rich's travel blog by clicking here or in the sandy-colored navigation panel at far left. (The color is not a coincidence.) We also have a small number of short videos that you can see by clicking on the thumbnails or titles below. The length of each video is shown in the corner of the thumbnail.
So read the journal and look at the pictures and videos!