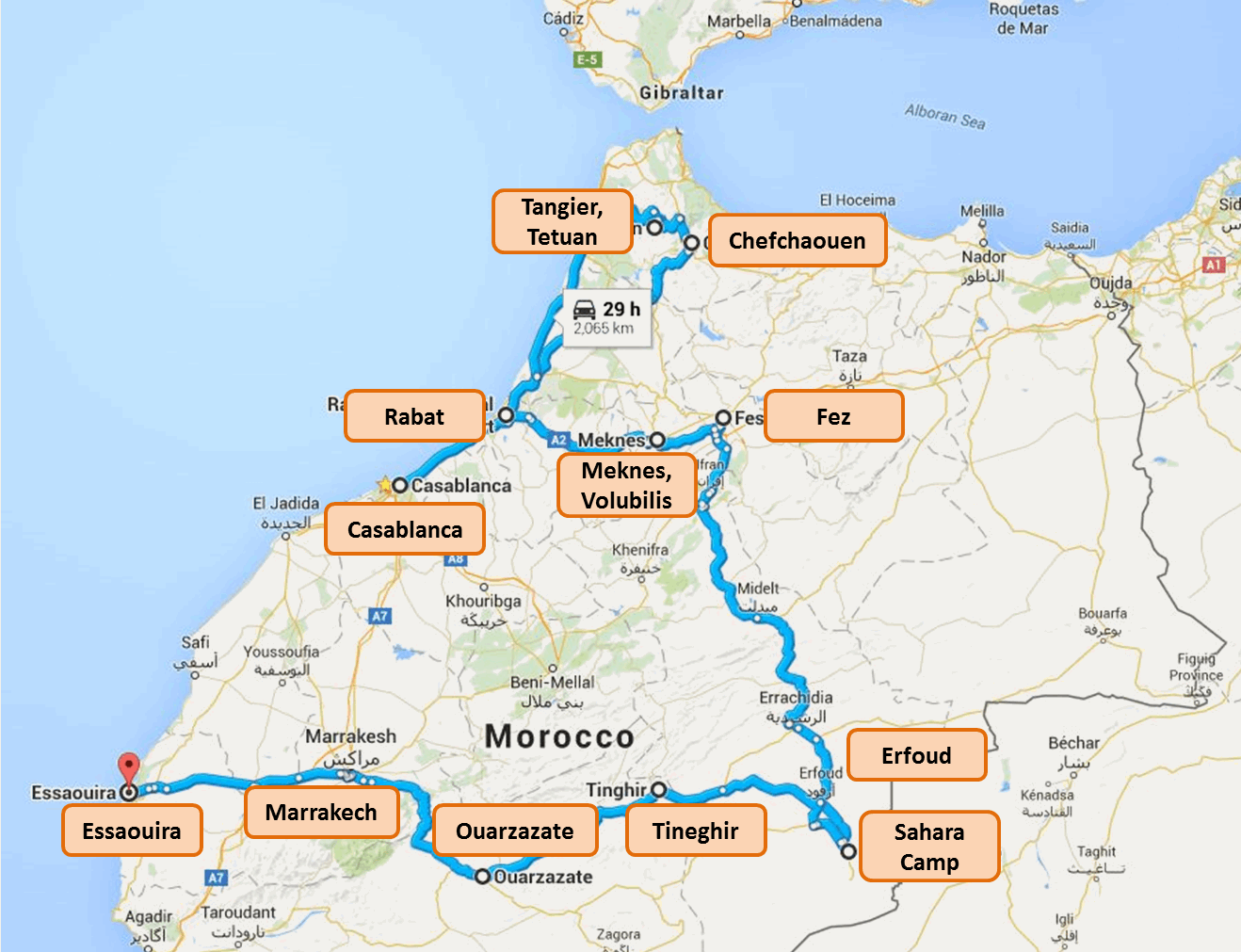 Our third trip with Overseas Adventure Travel brought us and 14 other people to northern Africa, this time for three weeks in Morocco. You probably have some stereotypical mental images of the country: camels bobbing through Saharan dunes; ornately-carved mosques; yeasty souks crammed with hijabi women, robed men, and shouting vendors. Those are all entirely accurate.
You may also have mental images of turbaned extremists, hands being lopped off, and dark gazes from people who hate Westerners. Those are all entirely inaccurate. We found a country full of friendly people, ranging from the courtly to the reserved, and a vibrant colorful country that it is an intriguing mix of the secular and the religious.
We also ate a lot of couscous. fresh seafood, and tagine. Lots and lots of tagine. If any time in the next couple of years you invite us over to your house, do not serve us tagine.
You can read about our adventures in snarky detail in Rich's travel blog by clicking here or in the sandy-colored navigation panel at far left. (The color is not a coincidence.) The links in the navigation panel will take you to the photo albums for each destination; alternately, you can click on the orange boxes on the map. They're connected by a blue path that show our approximate route, starting in Casablanca and ending in Essaouira. We also have a small number of short videos, most less than 2 minutes long, that you can see by clicking on the thumbnails below.
Read the journal and look at the pictures and videos! And think about us the next time you watch Lawrence of Arabia (which actually took place in Egypt and Syria) or Casablanca. (There is of course a "Rick's" in Casablanca. It was built in 2004. <shakes head>)
| | | | | |
| --- | --- | --- | --- | --- |
| | The Hassan II mosque can hold 100,000 worshippers. Here's a panorama of the outside. | | | About as jam packed and crazy as you imagine. Pickpocket heaven but worth the risk. |
| | Dates! Pomegranates! School supplies! | | | The call to prayer is hauntingly beautiful when heard up close. |
| | A kasbah is not a place, it is a thing: a fort, a residential area, whatever. Here's the one in Chefchaouen, in the Rif Mountains. | | | The snakes are defanged, but the craziness is still great to watch. |
| | This local cooperative is an attempt to keep alive a vanishing local craft. | | | Try dancing with a flaming tea set on your head. |
| | Berbers are an ethnic mix; these performers sing a Sudanese slave folk song. | | | Take argan nut. Smash against rock. Repeat 32 bazillion times. |