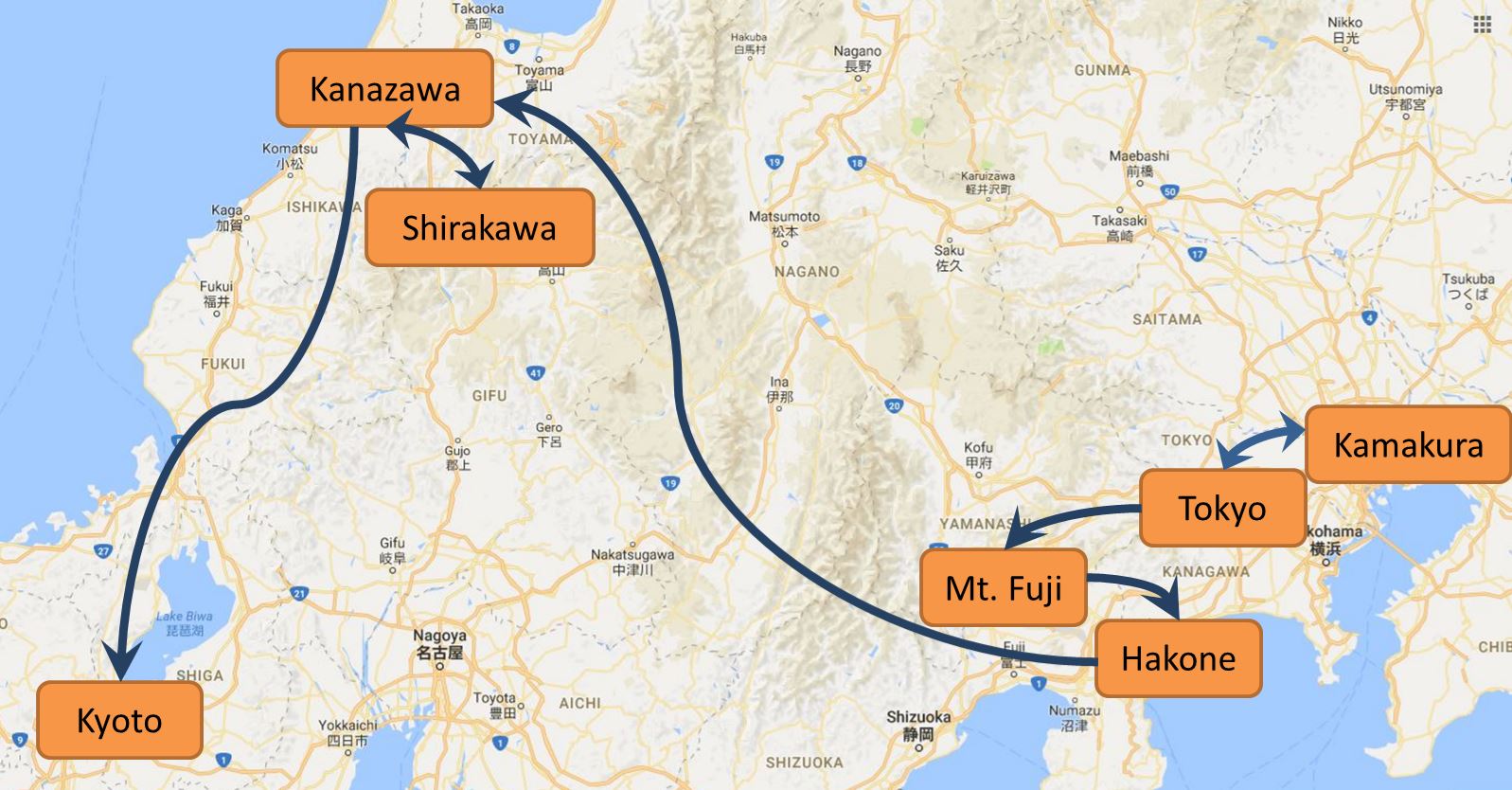 Our fourth trip with
Overseas Adventure Travel
brought us and 14 other people to Japan. We spent the first week on our town in Tokyo, then joined up with the OAT group for the frest of the trip. Our array of experiences was remarkable. We.....
Attended a championship sumo match
Watched a traditional kabuki play
Interviewed a geisha and a Zen Buddhist monk
Drove partway up Mt. Fuji on a beautiful clear day
Learned to make sushi (and ate a lot of same)
Made traditional paper
Pounded rice to make mochi
Participated in a tea ceremony
Were serenaded by (and attempted pathetically to [;ay) traditional Japanese musical instruments
...and more!
We enjoyed our congenial travel group that included characters as diverse as an aerospace engineer, a mathematician (other than Alice), a librarian, a harmonica-playing avian biologist, two sociologists, and other enjoyable folks. And our group was led by another first-rate OAT tour guide, the ever informative, patient, warm-hearted, and helpful Mariko N.
You can read about our adventures in snarky detail in Rich's travel blog by clicking here or in the navigation panel at far left. (The color is not a coincidence.) The links in the navigation panel at left will take you to the photo albums for each destination. To orient you geographically, the corresponding locations are shown as orange boxes on the map. The boxes (which are not links) are connected by a blue path that show our approximate route, starting in Tokyo and ending in Kyoto. We also have a small number of short videos, most less than 2 minutes long, that you can see by clicking on the thumbnails below.
Read the journal and look at the pictures and videos! And think about us the next time you eat sushi!
| | | | | |
| --- | --- | --- | --- | --- |
| | Sumo match! 350-lb guys throw piles of salt and each other around! | | | An equinox parade from a Shinto temple in Tokyo. A lot of enthusiastic participants! |
| | Two Shinto wedding processions at the Meiji Shrine in Tokyo | | | Not quite as fast as a speeding bullet, but the shinkansen (bullet train) is pretty damn fast. |
| | Assorted arts and crafts (sculpture, woodworking) in the spa resort town of Hakone | | | How to get in and out of a kimono, and all the good stuff you can store in one. |
| | Japan's oldest traditional dance, the kokiriko. It celebrates the hunt. | | | A local café owner and her assistant demonstrates a traditional dance for us. |
| | If you pound with a big mallet rice long enough you get, well, mooshed-up rice balls...mochi. | | | |