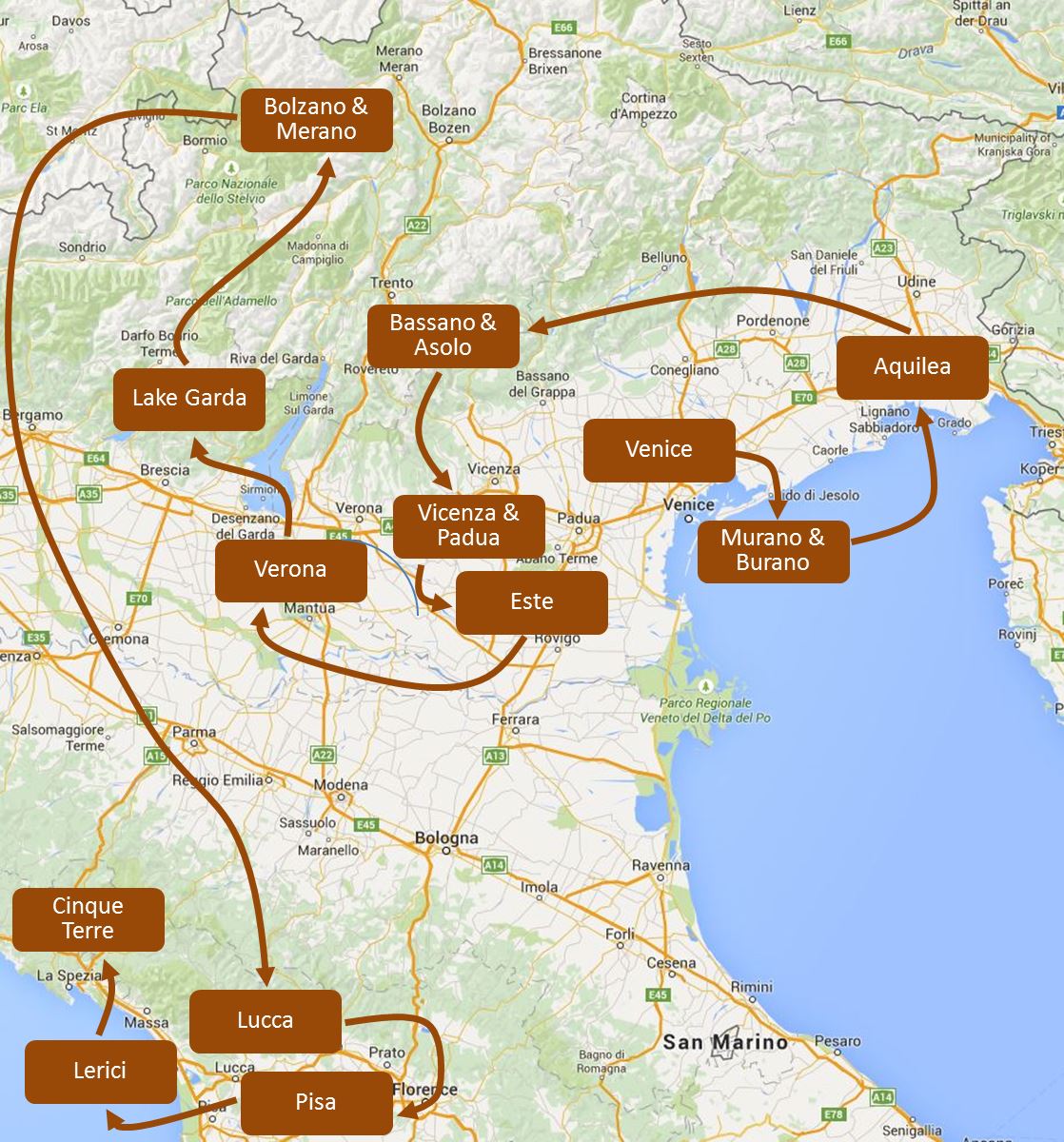 We enjoyed an ambitious but wonderful three weeks in northern Italy, following the approximate route shown in the image at left. (The map is of the northern part of the country, i.e. the upper end of the "boot" where Italy meets Austria, Switzerland, and France.) We spent our first five days in Venice by ourselves, and were then joined by our friends Jim and Elaine, with whom we spent the next 2 1/2 weeks traveling by car.
We ate outstanding Italian food in vast quantities, and walked it all off by schlepping miles every day through walled cities, across Venetian canals, and along vineyard-covered hillsides. The trip was, in short, just what it was supposed to be.
You can read about our adventures in snarky detail in Rich's travel blog by clicking here or in the teal navigation panel at far left.
The links in the navigation panel at far left will take you to the photo albums for each destination; alternately, you can click on the brown boxes on the map. They're connected by arrows that show our approximate route. We also have a small number of short videos, which you can see by clicking on the thumbnails below.
Read the journal and look at the pictures and videos! And think about us the next time you eat pizza!
| | |
| --- | --- |
| | A brief video pan of part of Venice's Grand Canal. |
| | Our gondola ride through Venice's side canals. |
| | Our castle-away-from-home! A 7-minute video tour of the AirBnB castle that we stayed at outside Vicenza. |
| | The main square of Vicenza, followed by a video pan of the Teatro Olympico |
| | A highly-compressed trip up and down the cable car from Balzano into the Dolomites. |